The Lotus team had been undergoing a rough few years since their successful association with Ayrton Senna ended. Nelson Piquet had not shone as a replacement and the triple champion declined to sign a new deal for 1990 largely as he didn't believe the Lamborghini engine would be up to snuff. That is a major worry for the team going into 1990 as the engine didn't cover itself in glory in the back of the Lola chassis last year, but the enthusiastic and heavily reorganised and rebuilt team under Rupert Mainwaring will hope that the bugs have now been ironed out. An updated chassis, the Lotus 102, has been designed as an evolution of the 101 with a larger engine bay to accommodate the big V12 Lamborghini and a bigger cockpit since both Warwick and Donnelly are rather taller than the compact Piquet and Nakajima.
---
11. Derek Warwick 
Warwick is a popular figure in the paddock but there's a sense that his chances for stardom have passed him by at this stage. First his unwise decision to reject a Williams drive to stick with Renault in 1985, then his vetoing as a team-mate at Lotus by Senna in 1986. Since then he has been happy at Arrows, but perhaps it's time to come out of his comfort zone again.
---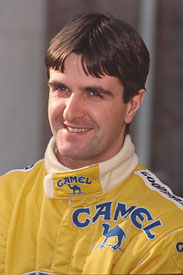 12. Martin Donnelly 
Ulsterman Donnelly had his F1 debut for Arrows in 1989, deputising for (and recommended by) his new team-mate Derek Warwick. He drove a solid if unspectacular race to finish 12th and last, three laps down – but he finished nonetheless. Donnelly has been the Lotus test-driver among his junior formula commitments over the last couple of years and he knows his way around the car and the team.