Autodromo Enzo e Dino Ferrari
13 May 1990
For many, the Formula One season only truly begins with its arrival in Europe – an old-fashioned notion in a global sport, but this year there was a certain amount of truth to it. With six weeks between Brazil and San Marino, many teams had taken their 1989 cars to the flyaway races and would unveil their 1990 challengers at Imola: Ferrari revised their aerodynamics, suspension and suspension and christened the result the 641/2; Benetton' had their sleek new B190 with its revised Ford V8; Brabham had their new BT59 chassis (with new paint job reflecting their new ownership by the Japanese Middlebridge group)
and new Judd engine. Osella, Larrousse, AGS, Coloni and Onyx were all also running new chassis, but the one everyone was talking about was the new Tyrrell 019. Its front wing – which drew immediate comparisons to the WW2 "Stuka" dive-bomber – combined a high nose with low wings to assist airflow under the car while keeping the benefits of a low-set wing. Or at least that was the theory: how it went in practice remained to be seen.
There were driver moves too: Emanuele Pirro returned from illness and Gregor Foitek moved from Brabham to the Onyx team now part-owned by his father, displacing Stefan
Johansson. For the likeable Swede this was the last straw and he, along with founder Mike Earle and designer Alan Jenkins left the team, threatening legal action against Peter Monteverdi. Gary Brabham had had enough of the Life team after just two races – frustrated with their utter ineptitude – and in his place came a bit of a surprise: Bruno Giacomelli, last seen in F1 driving the Toleman in 1983. However, all was not lost for the Brabham family: Sir Jack's youngest son David had signed terms to replace Foitek at the "Family Firm": a Brabham driving a Brabham for the first time in 20 years (pictured).
---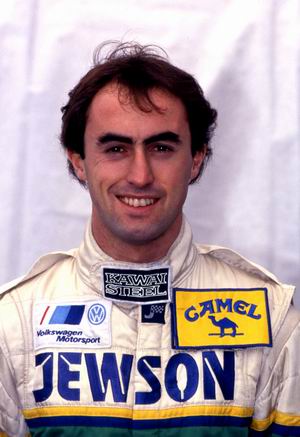 7. David Brabham 
Like older brother Gary, David didn't immediately turn to motorsport despite his pedigree. He played football as a youngster in England, then switched to Australian Rules when they moved back to Australia. At 17, though, he discovered karting and never looked back. After two years in karts he moved in 1985 into the "Ford Laser" series, in 1986 to Formula Ford 1600 and in 1987 he was Australian F2 champion (though admittedly that year's F2 championship was but a single race) as well as racing in New Zealand, the US and South America before a move to Europe beckoned. As British F3 champion in 1989, he was able to raise sponsorship to enter Formula One, with a possible move to his namesake team a particular draw for sponsors.
---
39. Bruno Giacomelli 
Giacomelli's last season in Formula One in 1983 had seen him comprehensively outperformed by Derek Warwick at a Toleman team that had just started becoming a force and would hire Ayrton Senna for the forthcoming season. Giacomelli moved over to IndyCar racing, initially with Teddy Yip's Theodore outfit (another casualty of the 1983 F1 season) and later with Patrick Racing, but a fifth place at Meadowlands in 1985 was the high point of his CART career and he moved on to sportscars, entering individual Enduro Racing events and most recently entering most of the 1989 season for Mussato Action Cars. He was approached over the winter by the March team to test the new Leyton House car, and thus reappeared on the F1 radar at 38, just when Life were looking for an experienced development driver.
---
With so many new cars on track, even the Pre-Qualifying sessions were of intense interest. There were no real surprises in the early session though – the Larrousse Lolas were quickest again, with Grouillard and Moreno also making it through – AGS withdrew Yannick Dalmas with a hand injury and Tarquini failed to set a time, while Giacomelli's return to F1 wasn't a success, posting a best time nearly six minutes off Bernard's.
Qualifying saw almost all of the top half of the grid sorted into teams: McLaren 1st (Senna) and 2nd (Berger), Williams 3rd (Patrese) and 4th (Boutsen), Ferrari 5th (Mansell) and 6th (Prost) – almost identical to Brazil's grid in fact. Behind the top six was Alesi in the new Tyrrell – just him, with Nakajima back in 19th – then it was back to the pairs: Piquet and Nannini 8th and 9th for Benetton, then the Lotuses a very encouraging 10th and 11th (Warwick and Donnelly), with Gugelmin a very encouraging 12th behind them. Pierluigi Martini had actually set a time good enough for 10th, but had to pull out after having a big crash at Acqua Minerale on Saturday and being hospitalised with a cracked ankle. His misfortune was his team-mate's gain, as the grid shuffled up and allowed Paolo Barilla to start in 26th. Still, Minardi were buoyed by the news that they would in 1991 become the first team to run customer Ferrari engines. Non-qualifyers were, shockingly, both Arrows cars ("not fast enough") and less shockingly, David Brabham, still getting the feel of the car.
The grid formed up after the formation lap less Emanuele Pirro who had stalled and would start from the back instead of his 21st grid position, and off they went. Senna got
away cleanly, pursued by Berger and the Williams twins, with Boutsen getting ahead of Patrese. Behind them, as the field streamed around Tamburello, Mansell put a wheel on the dirt and kicked up a great cloud of dust. Unsighted, Ivan Capelli and Satoru Nakajima collided and collected the hapless Moreno on their way off the circuit – all three were out on the spot. Martin Donnelly nearly joined them with a 360 degree spin at Tosa, but somehow nobody hit the revolving Lotus and he rejoined, albeit some way back.
The first-lap drama wasn't over yet though as Alesi managed to elbow his way past both Ferraris (not a popular move in front of the Tifosi) while Thierry Boutsen did something that it had been looking increasingly like a physical imposibility: he overtook a McLaren. On the track, fair and square, with no technical faults. 1990 really was turning out to be an interesting season!
The order then settled down a little with Senna leading Boutsen, Berger, Patrese and Alesi, who lost his place to Mansell on lap 3. On the following lap, leader Senna suddenly
wobbled, and swerved into the kitty litter at Rivazza – a broken wheel: a rare technical defect on the well-prepared McLaren. So Boutsen led Berger, and with the new evolution Renault V10 engine on song and driving his usual smooth race, he was able to stay well ahead. But unfortunately, his Williams had a small problem – a sticking gear lever. On lap 18, this caused him to select 1st instead of 3rd and his engine objected in the most spectacular fashion.
Berger now inherited the lead with Patrese some distance behind and Mansell going great guns in third. The Briton was the fastest man on the circuit but his Ferrari was emitting that bluish smoke that had presaged Prost's problems in Phoenix. Nonetheless he caught up to Patrese and then really gave the Tifosi something to cheer with a banzai overtaking manoeuvre on lap 22 at Tosa before setting off in pursuit of Berger. By lap 25,
the gap was 3.1 seconds but Mansell was seriously delayed by Andrea de Cesaris, apparently not looking in his mirrors, who cut him up badly and made contact – fortunately for Mansell, no damage other than the time delay was incurred and he went on his way, with all the work to catch Berger to do again, and Patrese back on his gearbox again. So, being Nigel Mansell, he got on with it and charged again, reeling Berger in until at the start of lap 36 he was right behind his former team-mate. As they shot into the fast Tamburello curve, Mansell came out to pass up the inside, but the fans' cheers turned to dismay as Berger moved over, forcing Mansell to take to the grass in a huge, balletic 360-degree spin. In a wonder of car control, he kept the engine running and didn't even lose second place but his radiators were full of dirt, his engine overheated after three laps and he limped into the pits to retire, furious at Berger for the manoeuvre.
So Berger still led with Patrese second once again. Nannini had driven a great race and was third, duelling with Prost after the Ferrari had stopped for new softer tyres, while Piquet and Alesi were both driving relatively isolated races in 5th and 6th. Riccardo Patrese had been leading the race in 1983 in the Brabham when with just five laps to go he had made an unforced error and chucked it in the gravel at Acqua Minarale. Now he seemed to be intent on redeeming himself in the eyes of his countrymen and was on a charge of his own. On lap 40 he was 5.5s behind. On lap 50, he was right on the McLaren's tail and the next lap he was past- to the rousing cheers of the fans. By this time, Berger was experiencing power loss, and had additionally ended up making a bad call on tyres, so wasn't able to stay with Patrese and was in fact being caught by the Nannini-Prost battle for third which was now taking most of the fans' attention.
The new B190 was flying and Prost, though tucked right under its rear wing, just couldn't find enough momentum for a way past, however he tried. On the penultimate lap, Nannini set the fastest lap of the race while Prost clocked the second-fastest, just 8 thousandths slower. No last minute overtaking today though, and no silly mistakes. Riccardo Patrese – driving with tears in his eyes on the last lap, he said later – came in to record his third career win, a record 98 races after his second, in his record 195th Grand Prix. Berger held on to second, Nannini to third and Prost finished a reasonably satisfied third. Nelson Piquet steered his Benetton home to fifth – the only driver to have scored in every race so far – and Alesi picked up the final point, followed home by Warwick and Donnelly in formation, both Loti finishing for the first time in 1990.
So, three races and three winners from three different teams. Success for the new Benetton and Tyrrell cars, the jury still out on Ferrari, and next up – Monaco.
---
Drivers' Championship
2Alain Prost9
| Position | Driver | Points* |
| --- | --- | --- |
| 1 | Ayrton Senna | 13 |
| 2 | Alain Prost | 12 |
| = | Gerhard Berger | 12 |
| 4 | Riccardo Patrese | 9 |
| 5 | Jean Alesi | 7 |
| 6 | Thierry Boutsen | 6 |
| = | Nelson Piquet | 6 |
| 8 | Sandro Nannini | 4 |
| 9 | Nigel Mansell | 3 |
| 10 | Stefano Modena | 2 |
| 11 | Satoru Nakajima | 1 |
* Top 11 finishes only are counted.
Constructors' Championship
| Position | Constructor | Points |
| --- | --- | --- |
| 1 | McLaren-Honda | 25 |
| 2 | Ferrari | 15 |
| = | Williams-Renault | 15 |
| 4 | Benetton-Ford | 10 |
| 5 | Tyrrell-Ford | 8 |
| 6 | Brabham-Judd | 2 |
---