Circuit de Monte-Carlo
27 May 1990
The most famous and glamorous race of the year is always good for springing a surprise or two, with the difficulty of passing and the unforgiving nature of the circuit. The world of F1 never stands still and despite all the new kit on display at Imola the teams were still tinkering and testing. Leyton House in particular had had an awful season so far and were frantically trying to identify the problem, while Ferrari made yet more adjustments to their engine in the search for reliability.
Pre-Qualifying once again saw the Larrousse duo top of the charts, with Grouillard and Moreno again joining them. Giacomelli got eight whole laps in before his Life grenaded itself again while the unfortunate Bertrand Gachot looked (and probably felt) like he was trying to navigate a barge around. The two practice sessions saw Senna take his 45th career Pole but alongside was not the other McLaren of Berger, but Prost's Ferrari. In a cracking third place was Jean Alesi, with Imola winner Patrese alongside. Berger and Boutsen occupied row 3, a frustrated Mansell 7th, Martini 8th with Pirro and Piquet filling out the top ten. At the back, David Brabham would make his Grand Prix debut from 25th with Lehto bringing up the rear in his Onyx. Watching from the sidelines would be Alboreto, Gugelmin, Grouillard and Moreno.
Getting into the first corner first is always vital at Monaco, and as a result there is often a pileup there as everyone tries to do just that. Not this year though – somehow – as Senna led Prost and Alesi through Ste-Devote and off up the hill to Massenet. As they wound their way round the streets, Alesi dived inside Prost at the Mirabeau right-hander and was through into second. Berger tried to follow through, but he was too late: Prost turned in and collected the McLaren. Both cars ground to a halt and so did everyone behind them. Out came the red flags and a second start was needed, with Prost and Berger running back to the pits to get in the spare cars – set up for Mansell and Senna respectively, so frantic adjustments were necessary.
The second start was as clean as the first, with Senna, Prost, Alesi and Berger leading away while Mansell got a slow start and dropped behind Martini. And for thirty laps, that's how they stayed: Senna slowly drawing away while Prost, Alesi and Berger ran tightly together, keeping the spectators entertained with a three-way battle and, while none of them was able to pass, they were all going great guns trying. Behind them, the two Williams cars were having their own private battle with Patrese fending off Boutsen. Mansell, meanwhile, had got back past Martini and was now nipping at the Belgian's heels. So much so, in fact that on lap 21 he bent his front wing on the back of the Williams and had to pit for a new one.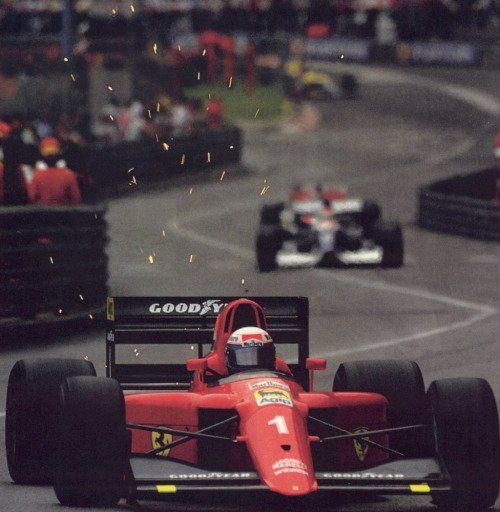 By this time, there had already been a string of retirements – Mansell rejoined 15th of 16 still running – and on lap 31 Alain Prost peeled into the pits and climbed out of his car, wiping battery acid off his hands after the one powering his semi-automatic gearbox exploded. Alesi and Berger went up into second and third, but with the Austrian missing first gear there was little he could do about the Tyrrell in front of him. On lap 34, Piquet did a Mansell, clipping his front wing on the back of Boutsen's Williams and in his case he spun to a standstill on the Loews hairpin. A push-start got him going again – but also got him black-flagged under the new rule introduced after Senna had got going again with a push-start in Suzuka.
On lap 42, Patrese retired with a distributor failure, putting Boutsen up to fourth. The Belgian was also having car trouble, with his throttle stuck down forcing him to use the brake alone to control his speed. Behind him was Derek Warwick, having a rare good race in the Lotus, and in sixth place was Alliot having an equally rare good race for Ligier. Not for long though, as Nigel Mansell was on one of his famous charges and was soon past both and up into fifth place, before chasing Boutsen down and passing the faltering Williams for fourth on lap 55.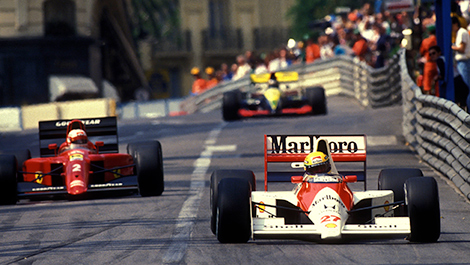 Ferrari's apparent curse struck again, though, with Mansell suffering the exact same exploding battery problem as Prost on lap 64. Three laps later, Warwick's fine race came to a frustrating end as he tapped a barrier and spun to a standstill – which nearly took Senna out of the race when a marshal gave him the wrong signal and he missed the stationary Lotus by inches. There was an exchange of impolite gestures between Senna and marshal next around. All of which left Boutsen back in fourth with Caffi now fifth and a ding-dong battle for sixth between Bernard and Foitek which was resolved in the Frenchman's favour when the pair collided six laps before the end and bent Foitek's Brabham so he was unable to continue.
Senna took a lights-to-flag victory, his third Monaco win, by just 1.1 seconds as he husbanded a misfiring engine to the end. Jean Alesi was a cracking second in his first-ever Monaco Grand Prix while Berger took third despite his missing first gear and the discomfort of using Senna's car. Boutsen hung on for fourth, Caffi was fifth and Bernard sixth – potentially a vital point that would rescue Larrousse from pre-qualifying after Silverstone. These six were in fact the only finishers, with Foitek classified seventh and last. It had been an entertaining race, and one that Ferrari would be keen to forget.
---
Drivers' Championship
2Alain Prost9
| Position | Driver | Points* |
| --- | --- | --- |
| 1 | Ayrton Senna | 22 |
| 2 | Gerhard Berger | 16 |
| 3 | Jean Alesi | 13 |
| 4 | Alain Prost | 12 |
| 5 | Riccardo Patrese | 9 |
| = | Thierry Boutsen | 9 |
| 7 | Nelson Piquet | 6 |
| 8 | Sandro Nannini | 4 |
| 9 | Nigel Mansell | 3 |
| 10 | Stefano Modena | 2 |
| = | Alex Caffi | 2 |
| 12 | Satoru Nakajima | 1 |
| = | Éric Bernard | 1 |
* Top 11 finishes only are counted.
Constructors' Championship
| Position | Constructor | Points |
| --- | --- | --- |
| 1 | McLaren-Honda | 38 |
| 2 | Williams-Renault | 18 |
| 3 | Ferrari | 15 |
| 4 | Tyrrell-Ford | 14 |
| 5 | Benetton-Ford | 10 |
| 6 | Brabham-Judd | 2 |
| = | Arrows-Ford | 2 |
| 8 | Larrousse Lola-Lamborghini | 2 |