Silverstone
15 July 1990
The British Grand Prix was the home race for many of the constructors, but had taken on an additional significance for the minor teams in 1989 and again this year as it was the 8th race of the season after which the Pre-Qualifiers would be reassessed. But what the hordes packing into the Northamptonshire circuit were interested in was Nigel Mansell and his continuing struggles with the Ferrari. He'd taken pole in France but was a victim again of his car's
unreliability. Could he break his 1990 duck on home ground, where he usually went well? Ferrari had beaten McLaren twice in succession so far, after all. Almost unnoticed in all the Mansell-Mania was that here his former team-mate Riccardo Patrese would become the first driver to start 200 races.
This would be the last race on the high-speed Silverstone circuit – an updated, lower-speed but higher-challenge circuit had been designed and – with funding from Tom Walkinshaw –  the construction teams were visible around the circuit ready to swing into action. Once more, the two Larrousse cars cruised through PQ with ease and were joined in the main session once again by Tarquini and Grouillard, with Langes, Gachot and Giacomelli once more far adrift of everyone else. Qualifying proper saw Mansell take his second pole in a row – and a career 14th – with a stonking lap, a comparatively huge 0.6s ahead of second-placed Senna. Berger was second and Boutsen third, the Renault engine on song here. In fifth was Prost, alongside Jean Alesi in the Tyrrell, who didn't seem to have got the memo that this was a power circuit and he wasn't supposed to be this high up. In seventh was Patrese, and then, sensationally, were Bernard and Suzuki in the Larrousse cars, 8th and 9th. Ivan Capelli lined up 10th, hoping to prove France wasn't just a fluke and the team had put their
problems behind them. The Benettons of Piquet and Nannini could only manage 11th and 13th, but Nelson was very confident in the new high-revving Ford V8 and had reportedly placed a sizeable bet on himself to win. Grouillard and David Brabham were joined in non-qualification by Foitek and Lehto, whose newly-renamed Monteverdi Onyx team seemed to be falling apart rapidly as its owners continued to try and force through a relocation to Switzerland.
With Mansell fastest in the warmup – and Piquet a promising second with that new engine – the fans were looking forward to the race which took place in glorious sunshine and 30-degree temperatures. However, when the lights went green it was Senna who got away fastest, with Mansell and Berger hot on his heels. Piquet, meanwhile, remained stationary, his engine stalled – he got moving eventually, now at the back of the field.
Mansell wasn't about to let his Brazilian rival disappear off into the distance as usual, though, and as the opening laps of the race played out, he stuck doggedly with the McLaren, looking for a way past. On lap 9, he made it past at Bridge, but ran wide on the exit and couldn't hold the position. Not daunted, he kept at it and on lap 12 he was ahead again, to stay this time. Two laps after that, Senna had an uncharacteristic spin and dropped to fifth, then to tenth a few laps later as he pitted to replace his flat-spotted tyres.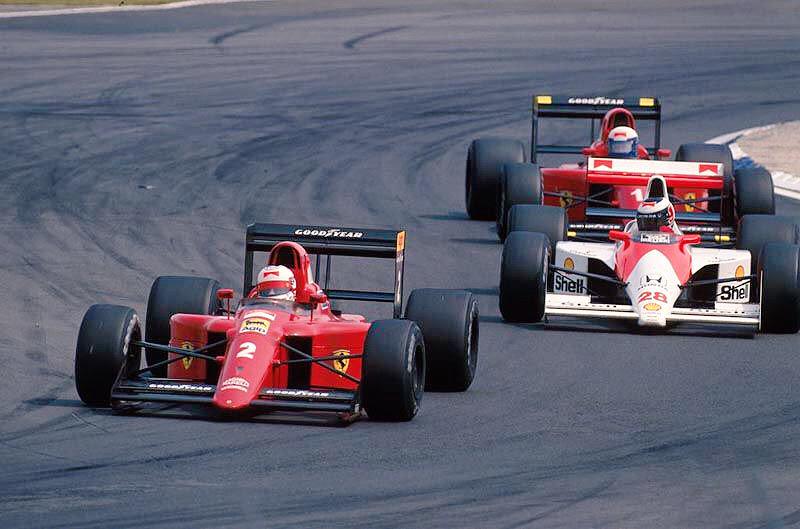 So Mansell now led Berger by about 3 seconds, with Prost third, Boutsen fourth and Suzuki a very impressive fifth place – the first time he had run in the points. Meanwhile, in 8th place, ahead of Ayrton Senna, was Nelson Piquet, who had been carving through the field like a hot knife through butter and had made up 18 places in 14 laps! His team-mate Nannini had also been doing well, qualifying in 13th and making his way up to 10th before colliding with Patrese on lap 16 and retiring – Patrese made his way in for repairs before returning to the race some way back.
On lap 21, Mansell's engine started making funny noises, suddenly rising and falling in pitch in unfamiliar places; his gearbox was acting up again. Berger rapidly caught and passed the home hero, who was nonetheless able to keep his car going sufficiently quickly to retain second place. In fact, to the relief of the crowd he seemed to get it under control again and caught up with Berger – having handling problems of his own – and re-took the lead on lap 28, with Prost following through three laps later to make it a Ferrari 1-2 as they approached half distance. Senna, meanwhile, was stuck back in 9th, having passed Martin Donnelly but no-one else. Behind Berger, Capelli had made his way past Boutsen and up to fourth, with Piquet now sixth and still charging.
For some time, the gap between Mansell and Prost remained stable with the Frenchman seemingly not pushing, but gradually the number 2 Ferrari began to slow and Prost caught up. On lap 43, he was past and Mansell was clearly struggling. For another 12 laps he held on but it was not to be – with just nine laps to go he pulled over and, furious, got out of the car, flung his driving gloves into the crowd and stormed off. The fans began also to depart. Meanwhile, Ivan Capelli's fine race had similarly run its course, the Leyton House out with a fuel leak.
So Prost led Berger and Boutsen with Senna now up to fourth past Piquet who had had a spin and was down to fifth. Despite Senna's fine run, McLaren were having a bad day at
the office by their standards and it only got worse when Berger's throttle packed up just  a few laps before the end and he was out, promoting Boutsen to second, Senna onto the podium and Aguri Suzuki into sixth – both Larrousses now in the points.  On the final corner, Eric Bernard elbowed his way past Piquet to take a fine fourth place and seal a very good day for the Larrousse team. Alain Prost moved to the top of the Drivers' Championship table – the first time since 1987 that anyone other than a McLaren driver had been there.
Following the race, Nigel Mansell held a press conference to announce that he had decided to retire at the end of the season after ten years in Formula One. "It's nothing to do with today", he reassured everyone, saying that he had been considering it for some time and was looking forward to working on his golf handicap…
---
Drivers' Championship
| Position | Driver | Points* |
| --- | --- | --- |
| 1 | Alain Prost | 41 |
| 3 | Gerhard Berger | 25 |
| 4 | Nelson Piquet | 18 |
| 5 | Thierry Boutsen | 17 |
| 6 | Jean Alesi | 13 |
| = | Nigel Mansell | 13 |
| 8 | Riccardo Patrese | 10 |
| 9 | Sandro Nannini | 7 |
| 10 | Ivan Capelli | 6 |
| 11 | Éric Bernard | 4 |
| 12 | Stefano Modena | 2 |
| = | Alex Caffi | 2 |
| 14 | Satoru Nakajima | 1 |
| = | Derek Warwick | 1 |
| = | Aguri Suzuki | 1 |
* Top 11 finishes only are counted.
Constructors' Championship
| Position | Constructor | Points |
| --- | --- | --- |
| 1 | McLaren-Honda | 64 |
| 2 | Ferrari | 54 |
| 3 | Williams-Renault | 27 |
| 4 | Benetton-Ford | 25 |
| 5 | Tyrrell-Ford | 14 |
| 6 | Leyton House-Judd | 6 |
| 7 | Larrousse Lola-Lamborghini | 5 |
| 8 | Brabham-Judd | 2 |
| = | Arrows-Ford | 2 |
| 10 | Lotus-Lamborghini | 1 |