Ferrari
Four wins for Prost puts Ferrari at the head of the Drivers' table for the first time in years, but Mansell's continuing reliability woes prevent them from being better in the Constructors' table. The Englishman has been so frustrated over the last season and a half that he has decided to retire, and there will be many drivers interested in succeeding him. What remains to be seen is how Mansell's motivation will fare; will he fade away or feel renewed with a weight off his mind?
---
Tyrrell-Ford
Though never quite doing as well again as their spectacular debut at Phoenix (Alesi second, Naka-san sixth), another second place in Monaco for Alesi and a point in San Marino are a pretty good haul so far. Alesi is clearly a bigger talent than Nakajima, who has also had the lion's share of reliability issues. The car is good and with Honda power next year could be very good indeed – but Alesi is undoubtedly being chased by bigger teams.
---
Williams-Renault
Still not quite living up to their potential: the Renault V10 engine is powerful enough and the chassis is quite handy, but aside from Patrese's popular win at Imola the results have been a little sparse. The weak link may be the drivers – a shame to say, as they're both personable and popular, but seem to just lack that cutting edge or the force of personality to take a team by the scruff of its neck and drag it upwards. One or other may have to give way in 1991.
---
Brabham-Judd
Fifth place in Phoenix seemed to bode well but the team are in real trouble – a shame after their bright comeback last year. David Brabham, though undoubtedly a gift for the PR and marketing departments, doesn't seem quite ready for F1 yet, has failed to qualify three times and only finished once. The undoubtedly talented Modena has had better luck, with a top finish so far of 7th in Canada – but things don't look particlarly great so far.
---
Arrows-Ford
Not a happy season so far for the newly-rebranded team. Alex Caffi scored in Monaco, sure, but both he and veteran ex-Ferrari driver Alboreto have failed to qualify twice and seem destined to struggle in midfield at best. Porsche engines for 1991 might be a godsend, but only if the German firm doesn't pull out on the strength of the season so far.
---
Lotus-Lamborghini
Still no joy for the veteran team; the eagerly-awaited Lamborghini engines have not delivered the results and both Warwick and Donnelly are looking distinctly downhearted, especially as there seemed to be an improvement and a point in Canada. Nothing the team tries seems to be working and with a third straight disappointing season there must surely be question marks over their continued funding by Camel.
---
Osella-Ford
Not a huge amount to report, but Osella have in many ways done better than they could have. Grouillard has qualified for five of eight races, and has come through pre-qualifying pretty comfortably in all bar one of the meetings so far. It's not enough to bring them out of pre-qualifying, but it does bode well for the future.
---
Leyton House-Judd
After a brilliant 1988 and a disappointing 1989, the team's first season with its new name has been nothing short of a disaster, with six DNQs on record so far, which has cost them their talented designer Adrian Newey. Fortunately the changes he made before leaving seem to have done a lot of good – witness the magnificent showing in France – and the team will be hoping to carry that momentum into the second half of the series.
---
AGS-Ford
The little French team have found it tough going so far, with both talented drivers struggling to pre-qualify and only Dalmas making it through to Sunday on two occasions. They are masters at making a little go a long way but are having to make less and less go further and futher…
---
Benetton-Ford
If "common knowledge" is correct and Piquet is indeed on a $100,000 per point contract, it seems to be working out quite well for him so far: he's scored in every race except when disqualified in Monaco. Sandro Nannini has had all the bad luck so far but has at least managed a podium/fastest lap combo in San Marino and a further points finish in Mexico. He is one driver already being touted for Mansell's Ferrari seat in 1991. Benetton to chalk up a win by the end of the season? Don't bet against it.
---
Scuderia Italia Dallara-Ford
With one exception, the cars have qualified for all races so far but Pirro and de Cesaris have only seen a chequered flag once each so far; the Magneti Marelli ignition and engine-mapping electrics seem to be their main problem but de Cesaris' erratic driving does seem to be exacerbating things.
---
Minardi-Ford
1989 was a good year for Minardi, with excellent qualifying performances leading to points, though never as many as they really deserved. 1990 so far, however, has been one to forget. Paolo Barilla looks rather out of his depth, failing to qualify twice in the new M190 so far, while Martini took two top-10 finishes in the old M189 but has only finished once, 12th, in the new one. Ferrari power next year, but like Arrows they must be nervous about their new supplier getting cold feet.
---
Ligier-Ford
From bad to worse for the French "national team" who must now suffer the indignity of pre-qualifying for the rest of the season. Alliot's brace of 9th places are the best results so far. Despite this, the friendship between Guy Ligier and French president Mitterrand means that state sponsorship in the form of Gitanes cigarettes and the national lottery is forthcoming and there are even rumours that Renault are looking to buy the team for a return to F1 as a constructor.
---
McLaren-Honda
Senna and McLaren still look the class of the field although Prost and Ferrari have made a lot of headway. Of eight races so far, it's 4-3 to Prost with Patrese taking the odd one, but McLaren's second driver has had more luck than Ferrari's. Berger looked a little out of sorts at the start of the season as he tried to squeeze his lanky frame into the car, but with adjustments made he's had four podium finishes and two more points finishes. He still doesn't look in the same league as Senna, but as the season progresses he will hope to give his illustrious team-mate a race.
---
Larrousse Lola-Lamborghini
The other Lamborghini-powered team have been in a class of their own in pre-qualifying so far this year and their great result at Silverstone – 4th and 6th – means they will be getting a lie-in on a Friday morning from now on. They still have reliability problems, but have finished just outside the points often enough that they must be confident of scoring again before the end of the season.
---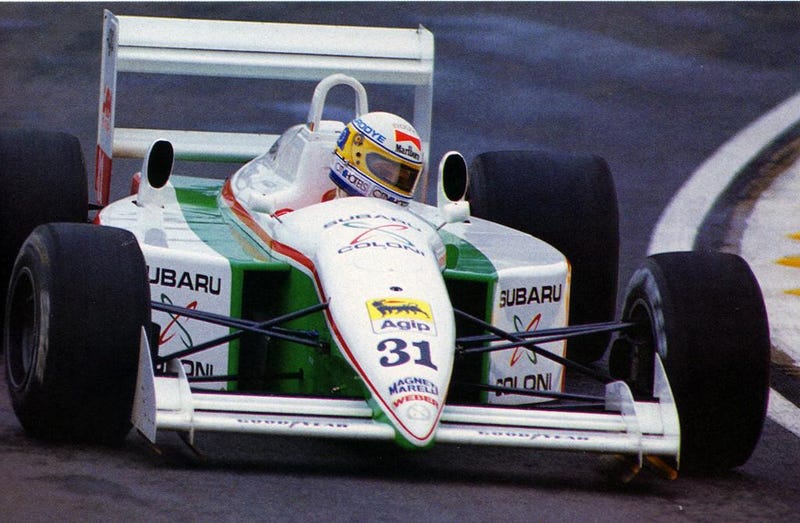 Coloni-Subaru
What a disaster. The clunky, overweight C3B chassis with its clunky, overweight Subaru 1235 Flat 12 engine has not even looked like prequalifying so far and Carlo Chiti's Motori Moderni concern (who actually designed and built the engine) had not done their already tarnished reputation any favours. The only thing stopping Coloni from being the laughing stock of the paddock is the existence of the even more risible Life team.
---
EuroBrun-Judd
Another team having a pretty bad year, though the EuroBrun squad seem to have little other kind. With lack of money meaning no testing and precious little development, Moreno has done well to drag the thing into the race twice so far, but you have to wonder why they even bothered to expand to two cars if Claudio Langes seems only to be given enough laps to have "entered" by the letter of the rule and avoid a fine.
---
Monteverdi Onyx-Ford
The Onyx team's story has been many things but not dull; however the current shenanigans with new owner Peter Monteverdi attempting to move the team – over the vocal objections of most of its staff – to a new base in Switzerland, Karl Foitek hiring his son and a threatened lawsuit from spurned driver Stefan Johansson and other top personnel may well be the end, sooner or later, of what looked like a promising squad just a year ago.
---
Life
One disadvantage of the new regulations making entry to F1 more affordable is that every industrialist with money to burn seems to regard the sport as a potential billboard. Gunter Schmid tried with Rial for two lean seasons, and Ernesto Vita can only envy his success. To put it bluntly, his car doesn't work. The "revolutionary" engine he's trying to promote can't do more than a lap or two before giving up and the chassis, lest we forget, was disowned by its original designer as unsafe. Lap times, when they are set at all, are hilariously off the pace. Perhaps the best we can hope for from Life is that they make it to the end of the season without killing or seriously injuring the affable Giacomelli, or anyone else.