Circuit de Catalunya
3 May 1992
The Spanish Grand Prix had been moved up to May from its former Autumn slot in order to act as a sort of curtain-raiser for Barcelona's Olympic year. The teams and drivers were all glad to return to he splendid Circuit de Catalunya, though once again the stands were much emptier than the organisers would have liked. Spain had also usurped the traditional position of the San Marino Grand Prix as the opening round of the European season. In recent years, the attitude that the Grand Prix season didn't begin "properly" until the circus reached Europe has been disappearing, but there was an argument for it in 1992: there were new cars here for Benetton, Lotus and Minardi, and McLaren had also planned to launch their new car here before feeling obliged to press it into service in Brazil.
Three flyaway races place a strain on the budget and en route to the circuit the Brabham team were stopped at the French border and had their equipment and cars seized by creditors. After some negotiations they were able to proceed with just two cars. To make matters worse, Giovanna Amati's sponsorship money had dried up already and she was replaced by Williams test driver Damon Hill. Andrea Moda, meanwhile, would finally, at the fourth attempt, be able to field two cars, with Perry McCarthy's superlicence finally properly issued.
---
8. Damon Hill 
Son of double world-champion Graham Hill, Damon had a comfortable childhood and a private education but when his illustrious father died in a plane crash in 1975, the Hill family found their circumstanced reduced. Damon took a job as a motorcycle courier to pay for his education and found his way into motorcycle racing in 1981 before his mother persuaded him to try "safer" car racing in 1983. Although showing only "above average" aptitude, he graduated into Formula Ford, but found circumstances and a lack of sponsorship seeming to thwart his efforts to progress into F3000. Eventually he was given a chance with a mackmarking F3000 team. He drove well but was never successful, winning no races and scoring just two podiums in his three seasons. However, he was picked out by Williams as their test driver and helped to hone the FW14B into the dominant force in 1992 so far, which in turn led to him being asked to fill the hole at Brabham.
---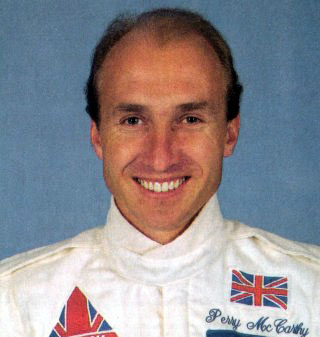 35. Perry McCarthy 
Born in the East London borough of Stepney, young Perry first got interested in F1 while at Basildon college and was known as something of a boy racer on the local roads. Working as a spray-painter on oil rigs for his father's company to raise funds, by 1983 he was ready to enter Formula Ford 1600; crashing in both the races he entered. His career in the Junior Formulae progressed slowly as he gained a reputation for speed combined with a habit of crashing, and struggled to make an impact on the track or gain sponsors off it. Ken Tyrrell was talking to him about substituting for Jean Alesi in 1989 but settled on Johnny Herbert instead, and McCarthy turned instead to IMSA sportscar racing in the US. After yet more bad luck and mechanical problems, he was joing 49th in the standings. But his efforts had brought him to the attention of Footwork F1 boss John Wickham who invited him down for a test session, which in turn put him on the radar of Andrea Sassetti.
---
Some of McCarthy's legendary bad luck struck the Andrea Moda team in pre-qualifying: he stalled his car after just 18 metres, just outside the pitlane. Meanwhile Moreno's engine blew out on the circuit. Stewards allowed McCarthy's stricken car to be pulled back for Moreno to use, ending the Englishman's weekend before it had really started. The Brazilian in an unfamiliar car set up for his team-mate was also unable to pre-qualify. The main qualifying sessions saw Mansell take pole once again, and once again a whole second ahead of anyone else; in this case Michael Schumacher making his first front-row start in just his tenth Grand Prix. Senna was third, Patrese fourth and Capelli a very encouraging fifth. Brundle, Berger and Alesi were 6th-8th with Wendlinger and Comas making up the top ten. At the back was Johnny Herbert – still using the old 102 despite the launch of the new 107 – with Katayama, Modena and the two Brabham drivers the four non-qualifiers.
Race day dawned wet, but the track was drying out by the time the cars were on the grid and everyone was slick-shod – until just a few minutes before the formation lap, when it suddenly came on to rain once more. After some frenzied activity, everyone replaced their slicks with wet tyres – all except Gabriele Tarquini and the March boys, who all remained on slicks, gambling that it would just be a quick shower.
It seemed as the grid assembled that they had made the right call because the rain had died away to a drizzle but the track was still damp and when the lights went green, most drivers made cautious starts – except for Alesi, who exploded off the line from eighth up to third, tucking in behind Mansell and Patrese, who had got ahead of Schumacher (who had muffed the start, dabbing the brake to stop himself creeping forward just as the lights went green).  Surely the Frenchman had jumped the start? But no – as he explained after the race, his rear wheels had been on a thin strip of dry track underneath the bridge across the start/finish straight, giving him an advantage over everyone else.
At the end of the first lap, Mansell and Patrese led Alesi, with Schumacher fourth, followed by Senna, Brundle, Berger and Capelli. Already Mansell was pulling away from Patrese, with Alesi having a great scrap with Schumacher behind and Senna and Berger seemingly struggling to stay with them. On lap 5, Brundle was out once again, spinning and stranding his new Benetton B192 on the kerb after a clutch problem. A couple of laps later, Schumacher forced his way past Alesi, and Senna soon followed, with Berger now snapping at Alesi's heels and Capelli sticking with the McLaren. With rain continuing to fall lightly the track remained damp and slippery but not properly wet and drivers and teams were wondering what to do about tyres, when on lap 13, Berger tipped Alesi into a spin while trying to get past – the Frenchman righted himself and rejoined behind Capelli in seventh place.
On lap 19, it began to rain more steadily, and the following lap Patrese lost the steering while attempting to lap a backmarker and clouted the wall, putting him out of the race. Mansell now had a lead of just over 20 seconds to Schumacher in second place and Senna in third. The champion, though, had his hands full keeping his car on the course and with Berger challenging behind, and seemed unable to close on the new Benetton. Mauricio Gugelmin slid off a few laps later and confirmed that the combination of the high wear on wet tyres caused by running on only slightly damp tarmac earlier in the race, and the new semi-wet conditions, was making the circuit very greasy and Mansell, Senna and Berger were all showing evidence of twitchy handling.
As the leading pack picked their way gingerly through the backmarkers, Berger slipped ahead of Senna, who immediately fought back and recovered the place as Berger was trying to pass Martini's 8th-placed Dallara – all of which saw the two McLarens slip further behind Schumacher. While Mansell was seeking out puddles to cool his tyres, Alesi came in to replace his, with no risk of losing sixth to the distant Fondmetal of Tarquini. The new tyres didn't help, though, and the Ferrari continued to lap slower than the McLarens and Capelli. Frustrated, he tipped Häkkinen's Lotus into a spin as he lapped him, though he kept going without damage, as did the Finn after managing to turn around.
Meanwhile, Senna was charging, slowly reeling in Schumacher's new Benetton B192 as the rain came back properly, allowing Schumacher to respond and speed up himself and begin to catch Mansell, still cruising some 12 seconds ahead. Meanwhile, Alesi's new rubber was enjoying the conditions and he quickly caught and passed Capelli for fifth place, setting the fastest lap in the process. Schumacher was now only 7 seconds behind Mansell and reeling in the Williams with Senna still in hot pursuit – soon just 10 seconds covered the three drivers and it was looking like we'd have a cracking finish as the rain continued to come down in torrents.
By lap 51, Schumacher was still bearing down on Mansell but Senna had dropped back, apparently ceding the place to the young German and deciding to concentrate on finishing for the points. Mansell began suddenly to lap quicker once more, pulling out a gap of 12s once more. A few laps later, on fading tyres, the Brazilian spun into the gravel trap but managed to keep it going and rejoin without losing third to Berger but now some 17s behind Schumacher. Alesi was still moving though, having powered through an enormous gap to catch Berger, taking the McLaren for fourth easily on his fresher tyres.
With nine laps to go, a trio of spins for Häkkinen, Tarquini and Lehto took all three out of the running, and on lap 63 Alesi was only 7s behind Senna and taking lumps out of his lead. As Senna came to lap Capelli, who was fighting Martini, it looked for a moment as if the Ferrari would deliberately hold the McLaren up to allow his team-mate to catch up, but he was quickly past – only to slide off and into the barriers while attempting to pass the Dallara. Capelli then blotted his already blot-ridden copybook by doing the same – both drivers had done enough to be classified 9th (Senna) and 10th (Capelli).
Mansell took his fourth race win in succession, equalling Senna's record from 1991, with Schumacher a best-ever second in only his tenth race. Alesi finished third – and only 2.5s behind the Benetton – with Berger fourth and Alboreto and Martini the beneficiaries of Senna and Capelli's embarrasment to take fifth and sixth respectively. Suzuki in the second Footwork was seventh, Wendlinger in the still-unsponsored March a creditable eighth and Fittipaldi and Belmondo the last runners, four laps down but still going (not bad for Belmondo in his first F1 race).
Senna's third retirement in as many races left him languishing in sixth, with Mansell on a maximum 40 points and Schumacher now just a point behind Patrese in second. Williams were already crushingly dominant in the Constructors' race and unless something changed dramatically it looked like it was already over as a contest.
Alesi's charge and fortuitous podium finish would gee up the Tifosi and Ferrari team alike for the next race at the Prancing Horse's stamping ground of Imola…
---
Drivers' Championship
| POSITION | DRIVER | POINTS |
| --- | --- | --- |
| 1 | Nigel Mansell | 40 |
| 2 | Riccardo Patrese | 18 |
| 3 | Michael Schumacher | 17 |
| 4 | Gerhard Berger | 8 |
| 5 | Jean Alesi | 7 |
| 6 | Ayrton Senna | 4 |
| 7 | Michele Alboreto | 3 |
| 8= | Andrea de Cesaris | 2 |
| 8= | Ivan Capelli | 2 |
| 9= | Johnny Herbert | 1 |
| 9= | Mika Häkkinen | 1 |
| 9= | Pierluigi Martini | 1 |
Constructors' Championship
| POSITION | CONSTRUCTOR | POINTS |
| --- | --- | --- |
| 1 | Williams-Renault | 58 |
| 2 | Benetton-Ford | 17 |
| 3 | McLaren-Honda | 12 |
| 4 | Ferrari | 9 |
| 5 | Footwork-Mugen Honda | 3 |
| 6= | Lotus-Ford | 2 |
| 6= | Tyrrell-Ilmor | 2 |
| 8 | Scuderia Italia Dallara-Ferrari | 1 |